Starting with Materials
What to have ready
Have at least one photo / image ready to upload. Mozart's List is very image-centric. All listings show with images. 
Have some description text about your listing. (The length limit is dependent on your subscription level).
If you have a video or SoundCloud type audio to include, have the URL ready to add to your listing. (The number of video / audio examples you can use is dependent on your subscription level).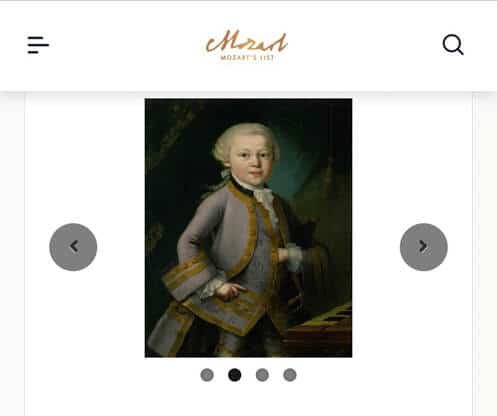 Not everyone who uses Mozart's List will want to make a listing in the business directory. Many people will come just to post in the classifieds. For people who are working in the field of classical music, from students, media, administration, services, academia, and all professional roles, the business directory is a place to start listing here on Mozart's List. Other than that, a business listing serves as a model for most of the listing forms across the site. If you have questions about anything or want assistance, please contact us. We are here to help. Let's get started!
Making a Business Listing
Your place in the Business Directory
Choose 'ADD Business' from the 'List It' menu.  Mark the listing as 'claimed' if you are the owner / manager of the listing. Otherwise this can be left unchecked if it is for someone else to claim later.
Add your name or the name of your organization for the title.
Add the subtitle, which can be what you primarily do, what your organization does, or even a tag line about your work (ex. One of the best destination festivals in the world).
Add your description text. 
Add some tags. You can put your main focus (ex. piano), your geographical location (ex. Berlin), or any terms that might be valuable in finding your listing through search.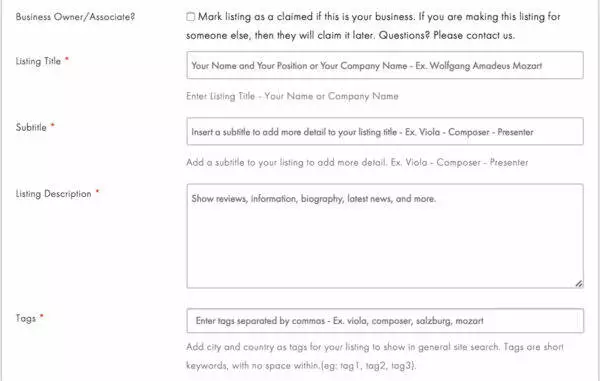 Location, Location, Location
Mozart's List is International
Put in your location. If you would rather keep your street address private, just use your city. Mozart's List is geographical. Listings can be used to build community for classical music in your area. Teachers, instruments, schools, orchestras, events, places to live & work—everything that is a resource for the classical music community. 
Put your address or city in the location field. Many of the addresses or place names will trigger the the rest of the location fields to fill automatically, otherwise do your best filling in the rest.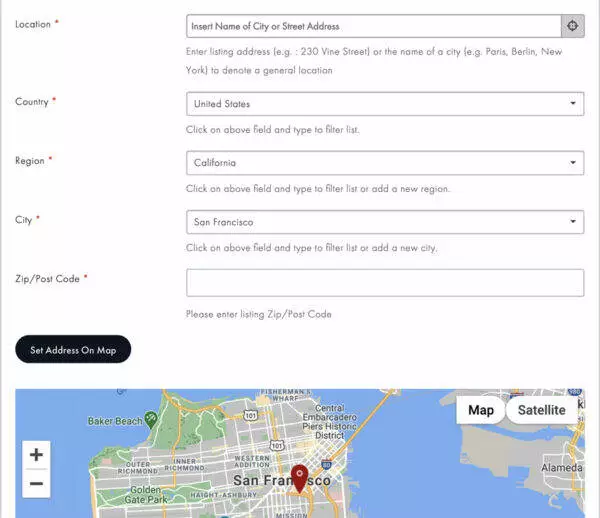 Email & Category
How will you be found?
Add your email address. Your email address will not show. Instead, when someone clicks on the email tab they will see a contact button which will bring up a contact form. 
Choose categories that apply. (The number of categories you can choose is dependent on your subscription level). You only need to check the subcategories, the main categories will be checked automatically when your listing is published (and will be counted towards your category limit). For example, if you play trumpet, you would check 'Brass.' The main category for brass is 'Musical Artists.' You don't need to check 'Musical Artists' because after you publish your listing, it will automatically be checked. If you go back and edit your listing you will see both are checked.
You can scroll through the window to see the many listing categories. Underneath the category window is a list of how many categories you can use for each subscription level. This information is also on the membership page. Categories will be a primary way for your listing to be found on Mozart's List. If you would like to see all the business categories on one page (or any of the listing categories that are part of Mozart's List), on the top menu go to 'Categories' and select 'Business Categories.'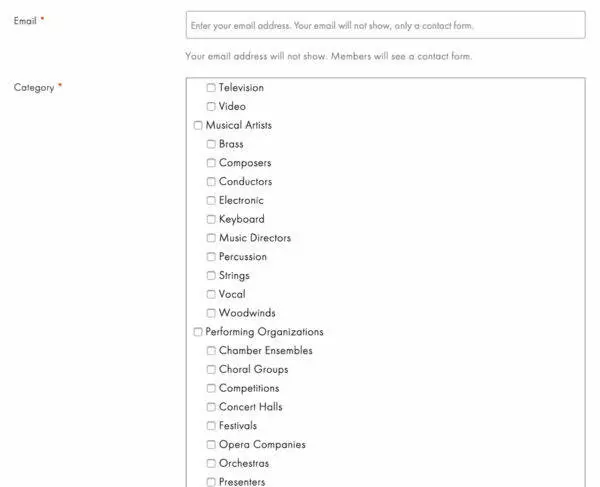 More Information
Website and Other Business Info
If you have a website, add it here. (You will need to use the https:// prefix).
If you have a business phone and / or business hours can you can add them here. Your phone number will be visible on your listing.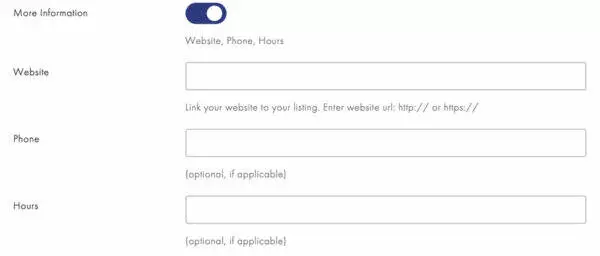 Social Media
The Social Media Dashboard
Put in your social network address links. What is great about this is that you can use your listing on Mozart's List as your social network dashboard / control center. So if you want to promote or post something that you would like to put across your different social media accounts, you can use Mozart's List as your command post. All of your networks accessible from one place! The social network links are available on most of the types of listings, so you don't have to have a business listing to take advantage of this option.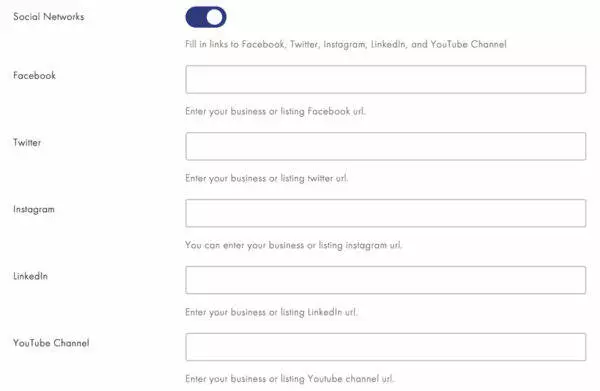 Picture and Sound
The easy part
Next add video links. You can also put audio links such as SoundCloud. (The number of video / audio links is dependent on your subscription level). Just add the URL of YouTube, Vimeo, SoundCloud, or similar. There is a video / audio tab on your listing that will display all of your videos. 
Now it is time to upload your images. If you want to add titles or captions, you can put them in during this step. Here's how:
After you see the image in the upload window, mouse over it. You will see an edit icon and a trash icon. Click on the edit icon and you will see two fields, one for title and one for caption. The caption field works best for photo credits. You can leave one or both blank. This information will show when you click on the images in the gallery at the bottom of your listing. Try it out! You can always go back and edit. If you need them, complete specs for images are in our Help / FAQ.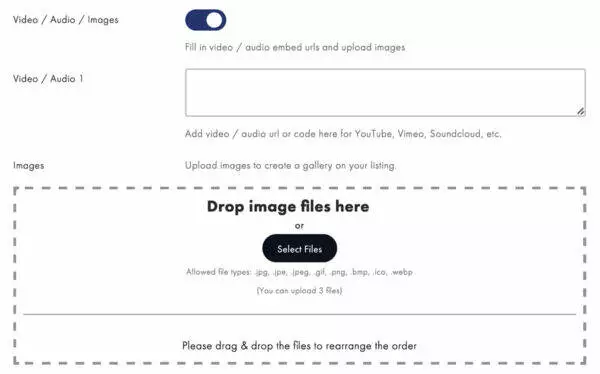 End Game
Some last details
If your business wants to list some special offers, you can do that here. (10% off if you say you saw us on Mozart's List!)
Your listing on Mozart's List has several ways people can contact you. The email link, any of your social network links, the guest book, and one other way is through a private messenger. This bypasses email and allows you to have direct contact with other members on Mozart's List. In addition, you can allow other members to connect with you or follow you on Mozart's List by allowing them to easily find your profile. (See the Quick Start page for more details about setting up your profile). You have the option to turn these off here, but they are there if you want them.
If you would like to preview your listing before publishing, you have the option to do that now. Otherwise, go for it! You can always come back and edit your listing as often as you wish.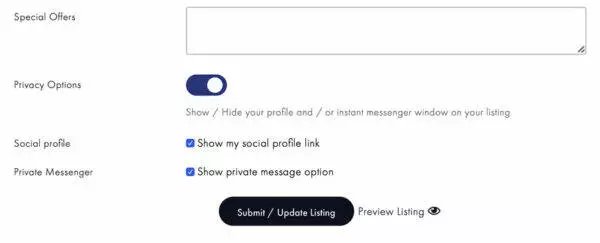 Other Kinds of Listings
Two things
When you are making other kinds of listings (there are eight different kinds of listings!), you can link them to your main business listing by typing the first few characters of the title of your main listing in the 'Link to Business' field.' After a couple of seconds you will see a drop down list that should include your business listing title. Click on that and it will nest into the field. This will make it so that your main business listing will be visible on whatever other type of listing you are making and visa versa. (For an illustration of this, go to the W.A. Mozart listing). In addition, if you have a professional or premium subscription, you will be able to link your other business listings together with your main business listing.
In this example, we see a section of the job listing form which has the option of adding a pdf file to your listing. This is in case you want to have a separate pdf for potential applicants. Resume listings have a similar option but allow for several different document types for anyone wanting to provide a downloadable resume.
Event listings have time and date fields and an additional field for adding a link for purchasing tickets.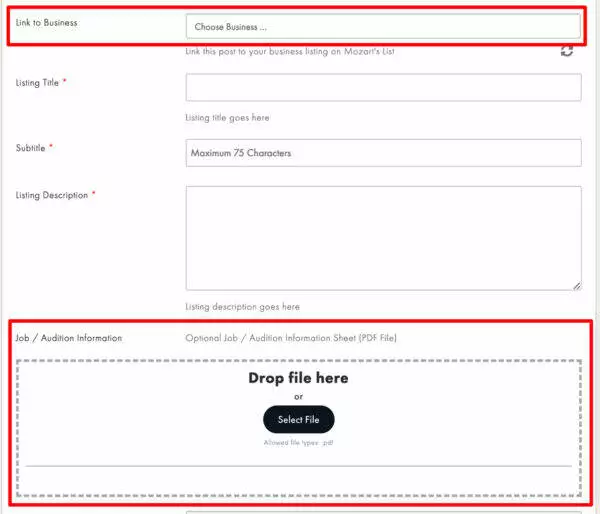 Importing Information
For Business and Events
If you happen to have professional business or event pages on Facebook, you might want to try doing a quick import of information from those pages. These are not always reliable and will require editing. However if you want to try and see what your information will look like, you just need to put the URL of the Facebook page into the file and click the 'Import from Social' button. At the very least, you might end up improving or updating your information on Facebook. Especially check the images that get imported. Sometimes there will be duplicates or less relevant photos.

If you have questions or would like any assistance with your listings, please contact us. We are here to help.